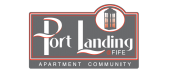 Your Review
Submit a Review

Resident Reviews
|

Recommended: Yes
We can't thank you enough for the kind words. Your review means a lot to us and lets us know we're on the right track! In case you have other feedback to us, please don't hesitate to contact us at any time. Thank you again!
|Recommended: Yes
Very convient and homey — Its like living in a very quiet neighborhood, almost not like an apartment
Thank you so much for this 5-star review. We really appreciate you being our resident and helping to share the word about Port Landing. We're here for you anytime!
|Recommended: Yes
Best apartments in Fife — Clean place to live, grounds are well kept, club house amenities are very clean and well maintained the property staff are excellent
We are incredibly grateful that you took the time out to leave us a 5-star review!
|Recommended: Yes
Port Landing at Fife. A Great Community in the PNW. — The entire staff at Portlanding at Fife are very friendly and extremely accommodating to our every need. Working with Svetlana and Kristina throughout the application and move in process was very pleasant. They went out of their way to make us feel welcome to our new home.
Thank you so much for your kind words, Steven. We really appreciate you taking the time to share your experience with us! We are always here if you need anything.
|Recommended: Yes
Love the overall feel and vibe of the community. — It seems like a pretty tight knit community where people lookout for one another.
Thank you Erik for your nice review! We loving hearing feedback from our residents. We hope you will continue to have Port Landing as your home! Port Landing Staff
|Recommended: Yes
Wonderful Place to Live — I lived in the Port Landing at Fife community for 2.5 years and truly loved my time in this complex. The apartments are spacious, clean and very quiet. Everyone in the office was welcoming, helpful and easy to work with. Svetlana in the office was always such a joy to talk to and I will miss chatting with her in passing. This was my first apartment I lived in on my own and I never felt unsafe or scared to be alone in this community. I would recommend this apartment community to anyone
Thank you Madeline for your kind words! We will miss you too, wishing you the best luck! Best wishes
|Recommended: Yes
There is Nowhere better to live. I Love it here. — I would tell someone that the complex is in a perfect area for me. its quiet, and the staff is amazing. Svetlana has treated me excellent and i highly recommend this complex.
Thank you for your review. The entire team at Port Landing really appreciate it!
|Recommended: YesClean, amazing property management — Quiet neighborhood and clean environment. Property management, especially Sveta, have always been really helpful with any questions I have. Would recommend to all people looking for new apartments.
|Recommended: YesVery good — Great spot, well taken care of. Love it.
|Recommended: YesA place we can really call HOME — Living at Port Landing at Fife is a haven for me and my family. I can say it is a place we've been searching for the past 20 years. Of all the amenities at apartment complexes we've lived in, this place tops it all The atmosphere is fresh and clean, my neighbors are pleasant, and the grounds landscape is immaculate. The rate of community noise and traffic runs are so low it's unbelievable, we love it The office staff and management is absolutely outstanding and their hospitality and customer service go far and above expectation. Kristina and Svetlana have been very accommodating, pleasant and courteous since day one in our process to reside at Port Landing Mike, the maintenance personnel, is courteous and prompt in his work. Thank you, Port Landing, for welcoming us into this beautiful and amazing community. We look forward to making great memories here not only with our family, but you and our neighbors as our second family. God bless
|Recommended: YesIt's nice — It's a beautiful apartment complex area. The only thing that I don't like about it is how the walls are too thin. I can hear my roommates. Also if you live under someone and they have heavy feet you can hear that as well.
|Recommended: Yes
Family-oriented area is perfect place to raise a family — The environment beautiful and secure and the staff are very kind and helpful. It's clean, very diverse area. I just feel safe, very comfy in my surrounding.
Thank you so much for taking your time to post a review about our community and Port Landing staff!
|Recommended: YesA nice place — This apartment is good.
|Recommended: YesGreat place to live — The staff are very friendly and helpful We just moved in and are loving it so far. We have so much space in our apartment and a crazy amount of storage. We're so glad we moved here
|Recommended: YesPerfect — It's quiet And very private. It's the best place I have lived at so far. The layout of the townhomes is amazing. They really thought of everything.